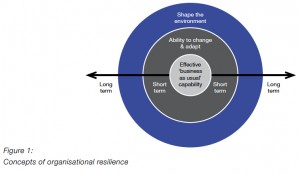 Very interesting and enjoyable time at the Annual BCI Lecture last night. I reported on Rob Kay's research in a previous post and it was good to see some additional aspects presented during the formal session – but of much greater value was the opportunity to chat with Rob over a beverage or three after the lecture.
The format of the session was not a lecture, but an interview style, with questions sequenced (in the main) to a set of slides prepared to highlight the answers. It worked well enough, and was probably the better format to present this material to those who had not read the report – or for those that don't get that BCM and Resilience are not the same thing. Personally I came to hear a lecture, so wanted to hear more of a structured presentation.
The session was recorded and will be available via the BCI website at some point.
A couple of new points on the research to note;
Trust is reported as the principal cultural characteristic that supports resilience. The concept of trust is not used is 'moral' context, rather it relates to patterns of prediction. Being able to trust that people, partners and systems will behave under stress in the way the CEO expects.
The number one way way to build this trust was via Simulations and Scenarios that stress the organisation and enable people to discover (and therefore predict) behaviours under stress. Light-weight exercises will not achieve this objective, and worse they promote cynicism.
Above all else the concept of resilience is contextual, and we needy to understand the context of our company and industry.
Finally, we need to understand the boundary in the 3-stage model of resilience proposed in the report (see picture at start of post). The core is being able to "execute" on our strategy and plans. The comment is that if we cannot do this in the good times, then we will struggle to deal with disruption. The execution of pre-planned BC strategies and procedures falls into this core category – perhaps near the boundary if you like.
While our disruption is within the realm of the risks we have anticipated and the plans we have developed, then the core discipline of execution applies, not the step off into the realms of resilience.
Adapting is what you have to do if you don't have a plan, if the plan doesn't work, or if you never thought about the risk/disruption that has occurred. Adapting is not following a procedure or pre-detailed plan.
There is was also some interesting commentary around patterns of Trust that support resilience, but these actually need to be understood in terms of complexity – a subject for another day.
This research is a real break-through for those who actually want to understand and engage with their executives in a meaningful way. I would love to discuss the subject with you, any comments?