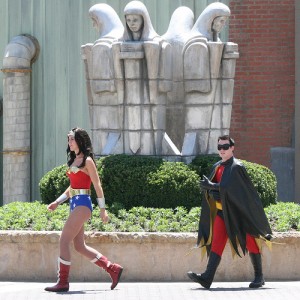 Things have been a little slow on the writing front since my last post about Tim Armit's essay.
I was a little disappointed that Tim's original post generated so little discussion. I am the only person who commented at Continuity Central.
I also posted about this on a LinkedIn Group (BCM Info Exchange), which generated 3 comments. I guess the failed companies are the only ones who are not adopting an all hazards approach, everybody else seems to be doing it!
So here is a story about 2 super heroes of BC and the level of preparedness and pre-planning that underpins these heroic strategies.
Back in the dark days and months following the 9/11 World Trade Center attacks one of the computer companies (Citrix) mounted a world-wide road show highlighting how one of their customers had used the Citrix Presentation Server product to enable a very successful recovery after the attack.
Suddenly they had a new marketing angle, the product was offered as a solution for Business Continuity.
It was a good story and the client had truly thrived, despite being a major tenant of the World Trade Centre. However, and this bit was not widely promoted in the roadshow, the client was really only playing around with this technology for a different purpose when the attacks occurred – they had not installed it as a BC solution.
Top marks to the techo who realised the potential and this lucky client was able to scale their 25 user, minor remote access tool up to a 4,500 user BC solution in 6 weeks.
The client with the great BC story to tell, that was Lehman Brothers. You will have heard about them, unfortunately the Citrix BC solution did not save them from the Global Financial Crisis. I guess it was not an all hazards piece of software after all.
This is a nice segway into a contemporary hero of BC. Just prior to Lehman failing (in September 2008) a European entity, Euroclear Bank , conducted a major BC exercise around a scenario of a major multi-market institution failing. These guys deserve kudos for running such an exercise – and it was realistic and their top Executives participated. Two months after the exercise Lehman's failed – and the learning and experience of the exercise helped the Euroclear team to ride out the storm effectively.
You  may have read about how Euroclear applied the core principles of BCM to the financial crisis – not exactly true. But they do deserve some credit.
It is not legacy BC that really helped, it was good Crisis/Incident Management arrangements and having rehearsed the executive in these roles and situations. I doubt that a single BC Plan document would have been referenced in the entire process.
I have a number of finance sector clients who have undertaken exercises that go beyond the facilities and technology arena. Liquidity issues, market upheaval and systemic social failures make for good challenges for senior executives – but very few BCM people will promote or deliver these types of exercises. They require specialist (non-BC) support to prepare and they are an exercise of adaptive crisis management rather than recovery plans and alternate sites.
I still believe these clients are the exception not the rule. Most are not thinking or exercising these issues. As evidenced by Tim's article, in the UK they will not need to address these issues in the future to pass regulatory scrutiny. Just protect themselves from risks that have rarely put any Bank out of business.
Maybe they will get lucky.
Do you only exercise/rehearse the traditional building/technology/people impacts?