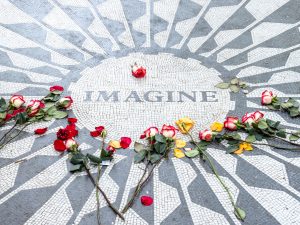 How are you working through the upside of the risk and the waves of uncertainty that are still a feature or our pandemic world?
The uncertainty and volatility continue to surprise, as the world learns to deal with mass protests in the midst of the Covid19 response. Reading about surprising events, such as this report that Minneapolis City Council will dismantle its police force, continues to re-enforce my belief that we are not in a position to define a "new normal" yet.
We need to continue to explore what is possible in order to steer a course to our next normal.
The uncertainty around the future of "the office" continues. Here in Australia we have some of the largest Banks starting to explore possibilities for their next normal. Westpac has flagged the potential review of the need for their technology staff to return to their expensive major city offices.
The National Australia Bank surveyed it's staff and found that most prefer to continue with flexible working arrangements. The Bank's initial phase of return to the office will only target 20% of their staff, and like many organisations they have had to make some changes to their concept of the office.
We have already put in place a range of additional measures to ensure we do this safely, including on-site nurse stations, the installation of thermal cameras to measure body temperatures upon entry to NAB buildings and there will be no more hot desking. Instead colleagues will be able to book dedicated desks via an app.
These are features of the "next normal" office for a lot of organisation, and I am with the majority of the NAB staff in embracing the possibility of ongoing flexible working arrangements.
In the first post of this series I followed a reference from David Lindstedt to the Covid19 work being published by management consultants McKinsey. The concepts of "new possible" and "next normal" in the title of this post feature prominently in McKinsey current work.
They developed their ideas by compiling and sharing the stories of people from around the world, and how their lives are being impacted. McKinsey present the pandemic as an event that defines a new era;
Certain events split eras into times before and after. We're living through one right now. Every day, what we knew as normal before coronavirus fades away, and we find ourselves in a transitional space where we cope with the crisis day by day and wonder what we'll be doing whenever the next normal arrives.
Their "Reflections in crisis" article describes how people's priorities are being impacted – and what that may mean for organisations going forward. One of the key takeaways is that employers should be aware that currently accepted notions about what motivates and inspires their staff may change as a result of the pandemic.
McKinsey found that the pandemic isolation triggered many people to re-evaluate their priorities – including personal and career goals and their willingness to trade-off between issues like salary, flexibility, commute time and pace of work.
It is too soon to see if these reflections become embedded in new behaviours, but there are several messages that should be considered in our review of possibilities. In particular this observation around work-life balance – and realising many other issues could be substituted into the comparison between rhetoric and reality;
Work-life balance has been a staple of corporate rhetoric for some time; the companies unable to make it a staple of corporate reality could soon be left behind.
I am one of those who has enjoyed the flexible working over recent months, and I often find myself more productive when working form home. Clearly that is a message many employers have heard – and see multiple upside benefits such as reduced rent overheads and the increased talent pool they can recruit from.
In another report, McKinsey also highlight that this approach is not going to work well for all employees. In the USA they estimate that only 25–40% of workers can actually work form home – and for those who can it exposes a new divide. These relate to the setup at home, the situation with dependents in the home and the divide in our individual needs for social interaction.
For too long this idea fo "work form home" was the BC pipe dream, it was included in plans with very little assessment of its validity. All of a sudden we have had a stress test of the concept and the results have been mixed – I have even read posts from BC practitioners promoting the need to return to the office!
In the office all the staff have access to similar facilities and infrastructure. Working form home is not a level playing field compared to the office. McKinsey suggest that organisations can provide furniture and equipment allowances, even perhaps subscribing to coworking facilities, to bridge the divide. These are the kind of changes that have potential to embed resilience and recoverability into the operations – they reduce the concentration risk inherent in large office complexes.
Tools and technology are not the only issues. To attract and retain the best talent organisations are also going to have to address the social needs of people to work in a remote and distanced fashion. While my needs for that social interaction are shaped by many years of working remotely, and multiple video conferences each day during isolation – others may require different support.
The possibilities, and the challenges, of ongoing flexible and remote working will clearly inform the next normal of both "business as usual" work as we exit the pandemic – and the next normal of BC and resilience strategies going forward.
It will be interesting to follow the progress of our colleagues in New Zealand. The Government there went early and hard in the lockdown, and as a result the country is currently Covid19-free and lifting all restrictions (with the exception of the borders).
With so many countries at different stages of the response and exit planning we should all have plenty of use cases and stories to exploit as we plan our own organisation's exit and possible next normals.
Is your organisation looking to exploit ongoing remote and flexible working arrangements?
Are they factoring in the improved operational resilience that might flow from this?
What "new possible" features most interest you?